Klavs' recent Concordia wallpaper was a big hit last year, but that wasn't his only scene featuring this famous Confederation class dreadnought over Vespus. The image below shows the ship tumbling further down into the atmosphere from a different camera perspective. It's smaller than some of his other images, but just as cool!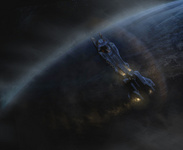 Somehow, I just can't resist beating up on the old girl just a little bit more. Here she is, falling into Vespus' gravity well, crew fighting valiantly to save her all the way down...
Here's another look at the original wallpaper in three different aspection ratios.