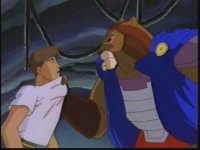 And here's another idea that got tossed around...
EA Partners With Nikelodeon For More Media Saturation

Starting in September, the network will begin airing animated series based on some of EA's most popular franchises. This next season will include Business Degree: Syndicate about youngsters learning the ins and outs of corporate greed while vying for prominence in a prestigious University.

Also on the slate is "Wing Commander Babies" which explores the lives of the characters fans have grown to love as infants coping as their parents go off to war - or in the case of Blair - the ostracism faced from his foster parent's objections to War, despite his own biological father's history as a war hero.

EA is planning more collaborations in the future. Concepts involving the famed Sim City franchise as well as its NHL sports games are in various stages of development.

EA hopes that getting younger audiences brand conscious about their titles will improve the marketability of their products towards what will soon be a key demographic for their gaming division. With many new iterations of their classic franchises in the works, EA feels it will be a key to hitting their target sales numbers in a market that may be looking to scale back spending amidst the economic downturn.