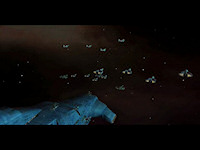 After thirteen exciting months, Dundradal's Community Replay has finished the main Wing Commander series. Fans are invited to play through the Proxima System in Secret Ops this week to beat back the Nephilim hordes. After the conclusion of this game, the replay will take an extended break before going back to Armada, Privateer and others. Here's some of Dave's experiences from Proxima. Be sure to check out his many pictures and videos from the replay.
Proxima 4: I check the killboard before this final mission, and note the 674 aliens that I have personally accounted for. The briefing for this mission tells us that taking out the alien accretion device can have bad long-term effects, so we'll destroy the alien cap ship controlling the device. Upon launching, Zero wishes us all good luck since this won't be an easy mission. Spyder gives us his kudos just in case he does not make it back. Maestro insists that we'll win, and Zero jokes about going thru Maestro's stuff if he dies.

As soon as we reach the point where the accretion device is, there is a bit of a welcome waiting for us. A Tiamat dreadnought is controlling the accretion device, and there are two Devil Rays that would love to try to make our Devastators destroyed. The captain of the Cerberus points out that time is of the essence here, and I see a Moray trying to get away with a direct attack on my bomber. It is easily destroyed by one shot from the plasma cannon, and then I try to help Zero out. He's forced to eject as the Devil Ray takes out his bomber, and it takes four of my missiles to reduce the Devil Ray to rubble. I go after the shield emitters on the Tiamat, and the other Devil Ray makes itself an easy target with a direct attack. One shot takes down that Devil Ray, and I get the shields down on the Tiamat. I get behind the dreadnought, and put six plasma shots into its engines to take them out. Captain Murkins warns us that the alien accretion device is warming up, but eliminating the Tiamat controlling it should do the trick. I get a bit lucky at finding the soft spot of the bridge to hit with my plasma cannon. Two hits take out the threat of the Tiamat, and there are only the remaining fighters to handle. I destroy five of the Squids with just the plasma cannon on my Devastator, and we all get congratulations from the captain for our good work.