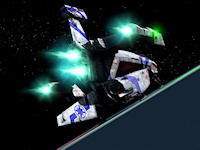 In addition to some breathtaking images, there's some even more impressive videos of the Goblin available. The first and second show how different versions of the model compare today to a few months ago. The third clip is a rotational beauty shot that really shows the ship off. Check them out!
I think it's looking spectacular, but I've been grinding on it for the last week, and I need to do something else for my own mental well-being. As always, enjoy, and suggestions are welcome.
We would have to agree!