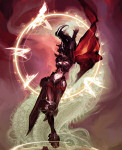 Spacetime Studios has announced that their publisher, NC Soft, has cancelled the sci-fi MMO game that they have been developing for the last two years. Spacetime, which was founded by former Wing Commander and Star Wars Galaxy developers, has laid off 12 people as a result. Blackstar was to feature space combat action with enemy ships and spaceborne ceatures. Individual player characters would also fight on planets, visit space stations and board enemy ships. These characters would have had the option to play as humans, space monsters, beautiful aliens or killer robots. The company continues to operate as the team tries to work out their future plans. Thanks to Jatarri for submitting.
The cancelled game was our primary project and we have a complete MMO engine w/ networking infrastructure, tools suite, and next-gen rendering engine. The company remains extremely committed to the IP and once all mutual obligations have been completed between the publisher and ourselves we intend to explore every possible avenue to see that our team's collective vision come to fruition.

We want to stress that there are no bad feelings with NCSoft. There is a tremendous amount of mutual respect between our companies. They have conducted themselves with honor and integrity, and we would work with them again in an instant.

We are still here, stable and strong, and running a little bit lighter while we figure out our next move. What does not kill us makes us stronger said the philosopher Friedrich Wilhelm Nietzsche. That may be true, but it isn't pleasant. Wish us luck and good fortune.