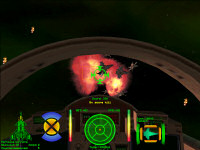 Although the team has been fairly quiet in recent months, Eder has posted a new progress report on the long-awaited Standoff Episode 4. The biggest news relates to voiceovers. The team has announced an exciting new addition to the cast. Marten Davies, the original voice of Admiral Tolwyn in WC2, has agreed to contribute a few lines to the game!
Just a small update this time, to let you know that we are indeed still making progress. It's only been two weeks since the last update, but there's actually been quite a bit of progress. That's the good news - the bad news, I suppose, is that most of the progress has been on Episode... Five :-P.

Let's start with Episode 4, though. The missions continue to move towards completion at a slow but steady pace. There isn't anything major to report here, but progress is being made.

In the meantime, we continue to add voiceovers into the game. In the case of Episode 4, we currently have almost half of the voiceovers implemented in the game, and a number of others are expected to arrive soon. Voiceovers are also the area in which Episode 5 has moved a big step forward, too - we appear to now have a third, possibly more, of the voiceovers for this episode. It's worth noting that we expect all the Episode 5 voiceovers to be done at the same time as Episode 4 - these days, when we send our actors their lines, we send all their lines through to the end of the game. That's the way we should really have done it right from the start, and it would have saved us a huge, huge portion of problems (fan project leaders, take note!)... but the truth is, it wasn't until just a few months ago that all the remaining Episode 5 scripts were finished, so we couldn't send them out earlier :-P.

In terms of voiceovers, there is also one other minor, but extremely neat bit of progress. We thought about keeping this one secret, but ultimately decided that it might go unnoticed in the game itself - and in addition, by mentioning it on the website, we are able to give public thanks to Marten Davies.

That's right - Marten Davies, the man who used to be the VP of Sales at Origin, and then the Chairman at Digital Anvil, has been kind enough to record a voiceover line as Tolwyn for Standoff! In case some of you are confused as to why we'd seek out him in particular to do this - Marten Davies also played Tolwyn in the WC2 intro. So, Admiral Tolwyn in Standoff is literally the original WC2 Tolwyn :-).

It's really an amazing thing how great and supportive former Origin staff are (and have always been) to the WC community - thanks, guys!

However, apart from progress, we also need to mention a serious problem we're having - also with voiceovers, in fact. For the past two months, we've been unable to get in touch with Andi Kravljaca, the man who plays Commodore Reismann in Standoff. Quarto's emails have bounced with some weird error, and Tempest - although his emails appear to be getting through, have not yielded a response. This is an especially critical problem, because... well, Reismann is the guy you hear in almost every briefing in Standoff, so you can imagine how many lines he has, and how much we'll need to change in the game if it turns out that we can no longer get lines for him :-(. Ironically, the last thing we heard from Andi was that he'd finished recording his lines, and would send them soon... anyway, Andi, if you're reading this, please get in touch with us! We really, really need you!