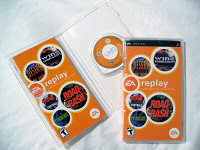 Games Asylum has posted a review of the UK release of EA Replay. The word is overall negative, with the specific exceptions of Road Rash and (somehow) Haunting Featuring Polterguy. As did many British magazines in the 1990s, the reviewer seems to have a special scorn for Wing Commander:
Wing Commander and the Secret Mission expansion are okay for a while. A while being about ten minutes... As a package things don't really stick together. The games load up quickly, but generally the presentation is poor; it's like EA gave the project to a group of new graduates to knock out on the cheap. Fourteen games - or thirteen, if you remove the pointless Wing Commander expansion pack - is a paltry number...
These guys also managed to pan Prophecy Advance, back in 2003. In that light, it seems important to note that Secret Missions isn't actually an expansion pack -- it's the full-fledged SNES release of the game, and it features quite a bit of added material (including an introductory cutscene, new takeoff segments and two different endings). You can read the full review here.