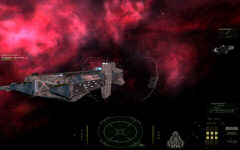 Goku tipped us off about a Wing Commander discussion in the latest PC Gamer Webcast. In Episode 65, the PCG editors discuss the continued enthusiasm of the Wing Commander community and recent goings-on such as the WC Saga release. They're off on a couple facts (Saga is not a remake of a WC game) and aren't up on the status of the series (Electronic Arts has owned the franchise since 1992), but they're pretty excited that the fans continue to keep things going. Goku cut out the six minutes on Wing Commander and converted it to mp3 format. You can check it out for yourself here (1.5 megs). The entire audio recording is available at the PCGP site.
"It's fantastic that this kind of stuff is out there and I love the fact that the PC gaming world has these communities that will keep this stuff alive... I'd love to see Wing Commander come back as a multi-billion dollar mega-game... The real hope for these homebrew ports is that they send a message to the publishers that there's still a lot of fan interest in these games."

"I'd be surprised if whoever owns the IP is not aware of this."