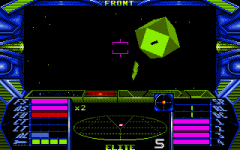 As the most notable open-ended space sim of its time, Wing Commander Privateer was always stuck with connections to an older classic, Elite. Despite differences in the core gameplay, comparisons are still made today. One thing they have in common now is their struggle to produce a modern sequel. Elite II was released the same year as Privateer, but looks worse in any technical or storytelling comparison now. GameSpot's UK branch has recently conducted an interview with David Braben, one of the Elite creators, and he claims that another game in the series will still be produced (after The Outsider, his next project). I was never a fan of Elite, but the eventual return of a space sim franchise of its fame should generate some good buzz. You can check out the full GS article to see the rest of Braben's take on gaming today.
GSUK: So, first things first. Are we ever going to see Elite 4?

DB: Well, we started it in 2000--and we stopped it in 2000. The reason was, we started it as a MMORPG, and the technology at the time for connectivity was rubbish. It had been oversold by the providers. We realised very quickly that what we wanted to do would overload the system and that we would end up taking the blame for the failings of the telecommunications industry. It was put on hold after that... In Elite, you were a spaceship, to move on to be a person, so many other things have to happen. Apologies for it taking so long, and I really mean that, but it's a game dear to my heart, and I don't want to do it badly.