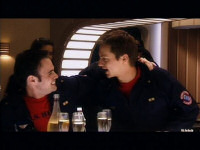 Nearly a thousand fans have downloaded at least one high resolution movie pack for Wing Commander Prophecy, and many have asked how they can integrate these videos into the actual game. HCl has created another amazing patch to make this possible. Pack one (1.6 gigs), pack two (1 gig) and pack three (550 megs) are still available for those who need them.
Getting it all set up is easy:
Install Prophecy if you haven't already (don't forget the Windows 95/98 compatibility mode Properties setting)
Unzip the WCP enhancement pack into the game's folder (back up your Prophecy.exe if desired - the pack also enables high res gameplay modes and online multiplayer)
Create a subdirectory called movie in the Prophecy folder
Move your downloaded high res movie files into this folder
Download this VOB patch and unzip it to the Prophecy folder (it will overwrite a file you made earlier)
Start the game!
The game will search the movie directory first, and if it doesn't find a high res file, it'll default to the regular videos on CD. This means you don't have to download all 3 gigabytes of movies in order to play. If you encounter problems, try installing this mpeg decoder, switching to a different video mode or alternating subtitles on or off. This upgrade works great for most people, but a few may encounter glitches. Feedback is very helpful at this point. Enjoy the game!