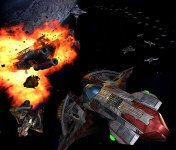 Gamespot has a new interview with Raph Koster, one Sony Online Entertainment's top massively multiplayer executives. Prior to his SOE job, Mr. Koster was at the helm of Origin's Privateer Online attempt. He has a lot to say about the mmo genre and how it will take shape in the future. Some of the insights provided here might suggest where POL could have gone. There is also some commentary on his time working with the original Ultima Online.
GS: The king category for MMOs right now is role-playing games. What's going to have to happen for a real-time strategy/first-person shooter MMO to come along?

RK: I think one of the key things that we definitely learned is once you start thinking of the MMO as a platform or a place, you can put in a lot of different kinds of games in them, rather than thinking of them as having to be an RPG. At the same time, I would say that we also learned that one of the big things about having a virtual place was having a sense of your virtual self and the way in which they advance and progress. With PlanetSide, you have Battle Rank. Even though we were careful to make sure it didn't take over the game, it's also very important as a marker of how well you're doing and how you relate to other people.

GS: What do you think the life span of an MMO is? Can EverQuest go on forever? Can the communities stay the same? Can I be playing with someone when I was 20 and still be playing with them when I'm 80?

RK: Well, 20 to 80… I think the historical evidence is that the games will last, right? The question is, "But with how many players?" So, there are games still running from 20 years ago that still manage to maintain this loyal core of users. Now, whether or not they can then afford to upgrade it to the latest shaders is a whole other question, right? But the persistence and the attachment of a community to the game--that doesn't seem to end.
That's something we can all confirm right here. You can find the complete interview here.