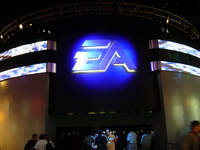 Detailed information on Electronic Arts' fiscal third quarter (October-December) was released this morning. Almost a dozen titles sold more than a million units during the quarter. Need for Speed Most Wanted lead the pack at seven million copies sold in its first six weeks on shelves. GameSpot reports that EA produced five of the top ten best selling console and hand held titles in 2005, but there seem to be some discrepancies, since their list doesn't reflect these copies of Need for Speed.
The financial numbers reflect a few major declines compared to the previous year. A lot of this is related to extensive research and development for the current console cycle transition. Net revenue for this time frame came in at almost $1.3 billion, down $150 million from last year. Net income dropped from $375 million to $259 million. The cost of future technology development exceeded $200 million for this period as well. In related news, EA laid off several hundred employees yesterday. This amounted to a 5% reduction in its workforce to streamline global operations.
Final fiscal year totals are expected by May. The next year should be big for the company with quite a few major projects coming to fruition. Some of its major next-generation titles delayed beyond Christmas, such as Burnout Revenge and The Godfather, will finally be released in March, and the company is expected to have a full lineup of titles for the Playstation 3 launch later in the year. EA currently has one third of the XBox 360 market in the US and one quarter of the European market. You can find the full financial report here.