We're going to roll back a bit further than yesterday to an EGM preview of Super Wing Commander done in the beginning of 1994. The game was only about 70% complete at that time, so it's interesting how much polish came together during the final stages. This one was dug up by the GamesArena. I did some reading up on old mid 1990s reviews the other night and I was surprised by how short they were in general. It's good to see the commercial game sites/magazines tend to put a lot more content into their articles today.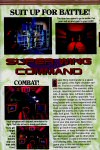 While the access time is minimal, it sometimes breaks up a really good dog fight... The Cinemas and game play in this one are top-notch! Definitely one to watch for.
That wraps it up for today, see you tomorrow.