Some sites like to celebrate the good work done in the past year, but GamePro has instead chosen to give EA the dubious honor of achieving the #1 gaming low of 2004. As well as closing Origin Systems, EA managed to make even more people jobless by moving Maxis. Their other business moves include destroying any competition for their NFL titles by signing exclusive rights, and buying up a large portion of major France based competitor Ubisoft. Fighting back against the company, a number of EA's employees are currently pursuing a lawsuit over unpaid overtime expenses.
No company has been more successful this year as painting itself as an evil gaming empire.
Nevertheless, their 2004 financial data should be better than ever. It'll be interesting to see where they go in 2005. You can find the full write-up as well as the other 19 gaming lows here.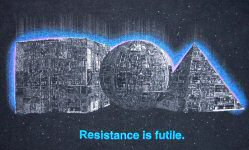 When this graphic was first made, who would have thought Star Trek would actually make a Borg Sphere and global powers would have to flex their might to defend against Electronic Arts?