If you fancy a change of background for your desktop, then perhaps this piece of art by SabreAce will suit you. It depicts a scene with a pair of Hornets escorting a Drayman away from an ocean planet.
I've been working on my modeling for awhile now, and finally hit the point where I felt comfortable trying to make some WC models. Although my models are rather low poly, and the textures aren't all that great (compare my stuff with something by the Saga guys, Eder, or Howie Day, and mine's downright horrible ), I'd like to think my Hornet and Drayman came out ok. The planet...well, let's just say it's tough to make something close to that old blue planet from the WC1/WC2 backgrounds.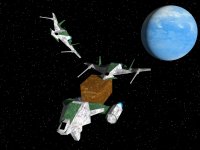 You can post your comments here.