Starman from the WC Saga project has put together this graphic to show how the design of the Tallahassee class cruiser has changed over time. It's not just the original games that changed the design, WC Saga's own design has developed over time.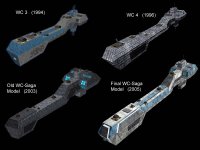 Some time ago, I got a hang of the idea showing off the evolution the Wing Commander universe has gone through, not at least because of this mod here. This should give you all a better insight in what you can expect when WC-Saga will finally be done. (The view-angle of WC3 and WC4 will sometimes be a little different than the other, that is because they are ripped away from original game-screenshots).
You can post your own comments in this thread.