It looks like Interplay is giving Freespace 2 another shot. Although a Freespace 3 has been discounted for a long time (and developer Volition has split from their publisher), Freespace 2 got some of the best review scores of the recent space sims. On top of that, the source code was released and distribution of the game was made legal. Not a lot of actual copies of the game were made however, so supply and demand has made boxed Freespace 2s somewhat rare. To capitalize on this, a special limited print run is being made.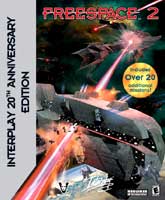 The year is 2367. Thirty-two years have passed since the Great War. As Terrans and Vasudans struggle to rebuild their civilizations, civil war erupts in the Polaris system. A rogue Terran admiral declares war against the Vasudans, threatening the stability of the Alliance. Without warning, the Shivans return, and Terrans and Vasudans face annihilation at the hands of their Great War nemesis.

Due to popular demand we are re-releasing a limited production run of the "Sci-Fi Sim of the year edition" of Freespace 2 available only at our online store.
You can preorder a copy for $49.95 here. Sound expensive? Soon you'll be able to add the WC Saga mod to it.