On further examination of my old Privateer 2 materials, I discovered this nifty $10 rebate for Wing Commander 4. It's a check-style instant rebate that you don't really see too much anymore for regular stores. Free movie passes tend to look like this these days. It's funny because Tolwyn's head is on it.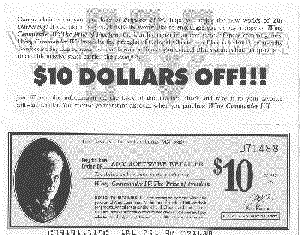 Congratulations on your purchase of Privateer 2! We hope you enjoy the new worlds of The Darkening! If you like this game, ORIGIN would like to encourage you to buy a copy of wing Commander IV: The Price of Freedom, the fourth chapter in an epic series of space combat games. Wing Commander IV chronicles the struggles of Colonel Christopher Blair as he battles to save the Confederation. Classic space combat is your milieu as you control Blair's actions both in space and aboard his massive space carrier, the Lexington.
I was pretty unhappy with the scan above, so we also have a nice clear super sized 450k jpeg here.