Wildfire found a great Avault snippet that provides key information on what the now-canceled Privateer Online would have been like.. and what EA might have in mind for Wing Commander's future. Apparently Origin was looking at possibly licensing the game Jumpgate to form the core of Privateer Online.
According to Netdevil's lead designer, Scott Brown, the game came close to being the much-rumored but, in time, canned Privateer Online.
You can find the Avault story here. In summary, it says that Richard Garriott was impressed by what had been accomplished and Origin was thinking of buying what was there and giving it the WC treatment. Note that we believe the Richard Garriott "resignation" and Privateer Online cancellation occurred at the same time for all intents and purposes, so this begins to present somewhat of a contradiction since we know that for the first quarter of this year a team of people at Origin-Austin was also working on Privateer Online. However speculation had it that they were developing a ground based interaction engine only, with no spaceflight to speak of.
JumpGate is an online-only, massive multiplayer persistent universe for Windows 95/98. The player is the owner and pilot of a spacecraft, with the objective being to acquire wealth by engaging in trade and/or combat with that ship. Players may work on their own or together as members of a collaborative team. Players can use the funds they acquire to improve their craft in various ways, such as the typical weapon upgrades, better engines, etc.
So if Jumpgate were to be licensed sometime soon after the first quarter of 2000, the team of WC vets could have hypothetically integrated it with what they'd already created and spent some additional months adding Wing Commander elements, as was done with Privateer 2 by veteran Wing Commander designers and programmers in the last six months of P2's 1996 development. Even Jumpgate's current universe could have been morphed on to the known WC timeline without terribly much difficulty.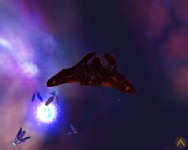 So where does this leave us now? Back in March when it came to light that the last Wing Commander game in production was canceled at Origin, there were a few possibilities we suggested. At the time, licensing a space sim that was already being created by a second party developer was one of those suggestions. It was a long shot of course, and still is, but we pointed out that a similar set of circumstances brought us Privateer 2. And although what has come to light in regards to his whole Jumpgate business means EA explicitly does not want to license another game for WC right now.. it also means they've recently considered it. Which is good enough to qualify as good news for me, but I'm admittedly on the upper end of the optimism spectrum. It's up to you to decide what you think. Either way, this has forced me to take a closer look at Jumpgate.. and it looks pretty cool.