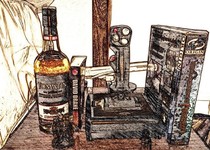 Sticks, Stories and Scotch is a simple concept that brings together great flight sims, good stories and a solid dose of adult beverage. It sounds like a good time to me! Aaron just finished a thorough replay of Wing Commander 1 and has distilled his final thoughts on the run. He's also kicked off the Secret Missions campaign, so the adventure continues! Follow along here.
First, for a game that's going to celebrate its 30th anniversary next year, Wing Commander holds up surprisingly well. A lot of that can be attributed to the branching campaign structure which provides a lot more flexibility and replay value than might otherwise be in a game like this. There were a few losing path missions which I don't know that I ever saw prior to this playthrough.

Despite the technical challenges, I feel that the game is still very much worth playing. For me, personally, I played through the original campaign numerous times growing up. That contributed to my general confidence when playing these missions. However, my brothers and I never had the Secret Missions expansions, so these missions I've only played through once or twice once I acquired a copy of The Kilrathi Saga to play on my own PC in the late '90s. From here on out, things get a lot more challenging.