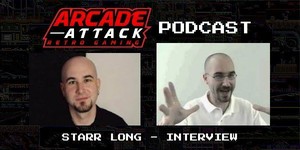 Arcade Attack has posted a wide-ranging interview with Origin veteran Starr Long. It discusses Mr. Long's extensive career at Origin and with the larger MMO scene, including his current work on Shroud of the Avatar. At about the 30 minute mark, there's also some fun discussion on Wing Commander. He talks about how Privateer and Armada were ahead of their time regarding their open world and multiplayer capabilities respectively. In addition to working quality assurance and playtesting on these two titles, he was also involved in QA with the Academy mission builder. There's also this quote, which is both somewhat depressing while giving fans reason to be optimistic about the future:
AA: Do you think there's room for a new game in the [Wing Commander] series?

SL: Oh, absolutely. Every few years we ping Electronic Arts about some of the intellectual property they own like Ultima and Wing Commander. They always claim they are going to do something with them. 'Cause we ping them and say, "Hey, if you're not doing something with them, we'll gladly do something with them..." but they always claim there's something in the work, so we can't do anything with them. ... We're happy to pay to license.