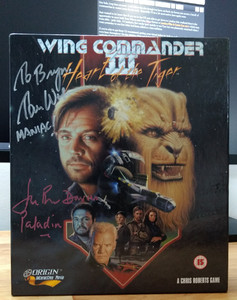 BrynS stopped in to share some positive Wing Commander experiences from this weekend at the London Film & Comic Con. He managed to meet Tom Wilson & John Rhys-Davies and get them to autograph his copy of WC3. Both were fantastic con guests, as usual, and they both seemed to enjoy talking about something other than the roles that they're more commonly known for. Only one day remains for fans who might want to get a chance to meet the actors in person, but for those not in London with the means to go, here's more from Bryn:
If you're able to get there I'd recommend getting your virtual ticket for both as early as possible. Both were were busy throughout the day signing when not doing photo shoots, although Tom in particular had a crazy and probably the busiest queue throughout the day by my reckoning due to the huge Back to the Future interest -- he was sitting alongside Christopher Lloyd and they did a bunch of joint photo shoots. I picked up my virtual ticket just before 11:00 for Tom and only got see him for an autograph shortly after 17:00.

Both him and John were signing like troopers all day pretty much right up to closing just before 18:00. I can only imagine the mental and physical exhaustion these cons must put on them, having to greet and chat with so many fans in an often conveyor-belt fashion. That said, I have to say that both were true gents and extremely courteous. I was the 360th signing of Tom's yesterday when I saw him and there was still a long queue behind me. While he signed my Wing Commander 3 box I just asked him if he had more Youtube videos in the pipeline and he said that we was planning more. If his signing queue hadn't been so busy I would have asked him about his comedy and some WC questions so I just thanked him after that and shook his hand. Great guy!

John's queue wasn't as constrained as Tom's and John was really gregarious and giving with his time, asking questions to each fan and regaling all with anecdotes from his range of work. Just before I was up to see him a member of Showmasters event team went up to him and said that some press wanted to interview him. John's response was that he would be happy to but not while there was a line of fans waiting to see him and they were welcome to wait in the line. What a gentleman! Both seemed pleased to be signing something other than Gimli or Biff photos too. John briefly talked about his Star Citizen work as well.

Anyway, I was able to get them both to sign my Wing Commander 3 box and to say I'm a chuffed Wingnut is an understatement; I'm still beaming!

If you're close by I'd definitely try and get there!