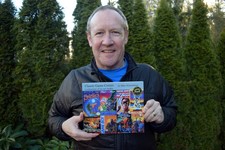 How do you save the Ralari? You just keep trying! In exactly that spirit, SNES Wing Commander cover artist Mike Winterbauer has re-launched his Kickstarter project. Mr. Winterbauer aims to publish a print version of his ebook Classic Game Covers, Confessions of An Art Junkie, which he released as a free download in 2014. Of interest to Wing Commander fanatics, the book includes several pages on the creation and history of the cover painting (and features a Dralthi on the cover!) He says:
This is the second campaign for Classic Game Covers as the first one came up short of the funding goal. I have lowered the goal and all offerings, including my painting offers substantially! Be sure to check out all the cool new offerings which include a special package for my awesome Wing Commander fans. I have also included many super nice signed prints and printed material as part of the new offers. Scroll down to check out more info and pictures of the new offers! We will succeed in getting this cool book printed with your help!
As he explained, for this second attempt the Kickstarter has been modified significantly, with a much lower $4,800 ask (almost 25% funded in the first few hours.) Most exciting, however, is that in addition to the $35 book pledge there are two tiers with special extras for Wing Commander fans! The $65 pledge includes a signed 14"x20" print of the game's cover painting and the $85 pledge comes with both the large print and a set of six smaller ~7"x10" prints which follow the piece from initial sketch to final box cover. Totally cool!
The campaign launched today and ends on April 18th at 1:03 PM Pacific. Given the level of interest from his previous attempt, this one is almost certain to fund--so let's show the Wing Commander community's support and take advantage of this rare opportunity to buy Wing Commander art directly from the artist! You can read more about the project and pledge here. We will update on the campaign's progress and with some historical background on Wing Commander SNES over the course of the next month.