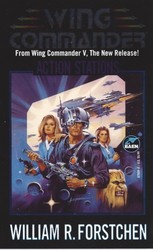 Confederation Day came early this year: the sixth Wing Commander novel, Action Stations, is officially available as an eBook today! Action Stations is both a prequel, telling the story of the war's first battles, and an in-lore artifact, a historical novel which exists in the Wing Commander universe. It's a great read, very much in the tradition of Dr. William Forstchen's earlier standalone books, End Run and Fleet Action. Here's the official description:
THEY PLANNED ON A NICE WAR

There had been a century of peace, and the politicians of Earth and its colonies were running on platforms of cutting "wasteful" military spending—all while Earth's military tried to keep aging and obsolete ships flying and battle-ready. And while the swords rusted, war clouds gathered on the horizon…

Contact had been made with the Kilrathi—a warrior race feline in appearance and deadly in combat. Yet, even though they had annihilated or enslaved scores of other races throughout the galaxy, and had attacked human colonies on the border worlds, the government was not taking them seriously, thinking that the Fleet could handle them with ease. Commander Winston Turner knew that the government was moving toward a declaration of war against the Kilrathi in response to demands from the border worlds. He also knew that the Fleet would be forced to operate under Plan Orange Five: limited action and punitive responses only. He only hoped that mankind would recognize its mistake before it was too late.
Action Stations is available on a variety of formats; we've updated our Wing Commander eBooks matrix below with links! You can find several sample chapters at publisher Baen's website. The next book published will be False Colors, due April 4. The remaining book, End Run, has not yet been scheduled. At press time, Barnes and Noble still had not listed the eBook on the Nook store. We will update when it becomes available.
UPDATE: Action Stations is now available on the Nook store.
End Run
Baen Ebook
Amazon Kindle
Apple iBooks
B&N Nook
Kobo
False Colors
Amazon Kindle
Apple iBooks
B&N Nook
Kobo