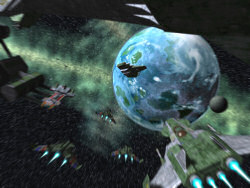 The Standoff team is happy to release the single package install (462 MB) for the CIC's 18th birthday. This file will install the complete game without the need to download multiple packages.
It's been an amazing journey for Standoff. Work on the game started in spring 2001. Wingnuts got their first taste of Standoff when Episode One was released on December 23, 2004. Episode Two came out on the CIC's 7th birthday in 2005. Episode Three followed on January 8, 2006 and the penultimate Episode Four was in Wingnut hands on September 27, 2007. The grand finale, Episode Five, came out on the CIC's 11th birthday in 2009.
As a team, we'd like to extend a very heartfelt thank you to the Wing Commander community for all the support over the years...and patience. Now get out there and save the Confederation...again!