Klavs' latest wallpaper image is an exciting strike on a Fralthi. While a pair of heavily armed Raptors swoop in on an attack run, a single Hornet dances across the cruiser's hull with laser beams blazing. I also really like all the blue highlights and background dust as well as the sense of motion here. Colonel Halcyon sure liked to send a pair of starfighters out to assault a major capship, but it's a much more terrifying proposition when everything is scaled properly!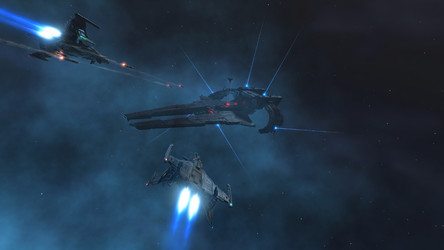 B: "Three guesses as to who THAT is..."

T: (sigh) At least he's keepin' 'em busy. Go for target lock!"