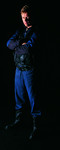 LeHah went through some extra effort to bring us a lost gem from 1996. While going through some of his stuff he recently came across a relic of his youth. I'll let him pick up the tale from there:
I happened to wake up around midnight the night before this interview in 1996. The DJ said how excited he was that MARK HAMILL ... Luke Skywalker! ... was going to be in the studio for the morning show. Expecting some Star Wars news, I dug out an old cassette and recorded this.

Mastered in brilliant mono from a 25 year old cassette tape from a boom box with bad reception circa 1996 and transferred with IPhone's Voice Recorder, you too can enjoy this only sort-of interesting interview with Mark Hamill the day before his WC4 signing event at the New York Virgin Megastore.
You can download the interview here (mp3) or here (ogg) format. The interview runs about 9 minutes and the Wing Commander bits begin about 1 minute and 40 seconds in.