Fans have been clamoring for new skins, and Klavs has obliged with a Wing Commander 4 variant of his popular Arrow 3D print. This ship joins versions of the design based on both Wing Commander 3 and Armada. It's a beautiful ship that's all set to represent the Strategic Readiness Agency on your behalf. Find it at Terran Fleet Supply! And then check out Maniac's recollections of the ship below.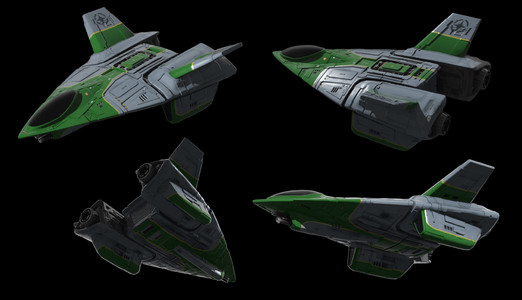 It had been six months since I had been in the cockpit. Surgery, rehabilitation, interviews, press junkets, endless memorial dedications, and a month long leave at my dad's place had taken their toll. You'd think the guy that helped dust Prince Thrakath and destroy Kilrah could fly a decent upwind leg but noooo. I was way behind the ship.

Basic piloting is all about managing your finite amount of concentration into managable levels, and planning ahead to break your concentration up to manage the next thing. I was blowing it bad. Before I knew it I was blind with no NAV info, climbing through a solid overcast at 4600 meters with no outside reference or data. Normally this is no problem in an Arrow, if you go blind, you just pitch up, use your thrust to pop up above the overcast and start working on your options.

But thanks to the new batch of fleet cutbacks we only had enough fuel for a short atmospheric hop, the engines mixing the limited fuel with the ambient air to maintain propulsion and there was no way I had enough propellant to burner up to the stratosphere. It was just supposed to be a local atmospheric flight. Red lights were coming on one after another, and now I was totally crippled and blind, with no way to know even my altitude. I had been shot at thousands of times, been shot up hundreds of times, and nothing shook me like that dark cloud closing in around me, the rivulets of water pouring over the canopy, the flash of lightning, the sound of my stupid beating heart, and me, cursing like an idiot at my own stupidity and pride.

That green painted Arrow and I were going to dig one hell of a messy hole in the mountainside.