While on break from ship modelling, Klavs has come up with tail art for the Tiger's Claw Black Lions squadron. This would look great on his Rapier II model! You can find more of Klavs' incredible work in past news updates.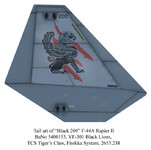 One of the techs was a fair hand with the art tablet and a master of programming the CNC sprayer. She came up with this great insignia, a big, black, mean lookin' winged guy on top of some red claw marks. which the Colonel immediately approved. The new Rapier squadron was to be the "Black Lions". All the ships were sprayed, and we flew the crap out of those awesome birds all the way to Venice, through Thor's Hammer, and beyond.

Excerpt from "Me: The Life and Battles of 'Maniac' Marshall."