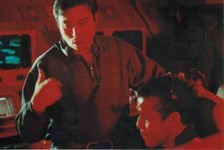 Chris Roberts and the Cloud Imperium team have achieved another record-breaking crowdfunding milestone. They crossed over $25 million today, just one month after hitting $20 million. As the number of contributors grows and special offerings keep popping up, Roberts Space Industries has seemingly gained the ability to print money with no end in sight. A huge 36x12 inch mousepad has gone on sale featuring the logo of Origin Jumpworks, a fighter manufacturer in Star Citizen named in tribute to the company that started it all. The latest proceeds will go towards beefing up the preliminary alpha release of their game. As a further stretch goal, at $27 million Star Citizen will gain a unique new trading race.
At $25 million, you allow us to build a stronger infrastructure for the Star Citizen alpha test:

Enhanced Alpha – We will use additional funding to build a wider alpha test than we had originally intended for the first phase of Star Citizen's launch. The initial plan was to first launch servers in North America and then expand to areas such as Europe and Australia to decrease latency in these areas, perfecting the game as we improve the experience around the world. This funding will allow us to invest in a wider infrastructure for our early testing, spinning up remote servers earlier. Hitting this goal will also allow us to increase the number of remaining alpha slots. Extra alpha slots not only means more Star Citizens will travel the 'verse at launch, but that we will receive more feedback and more stress testing. This in turn will allow us to better balance and enhance the Star Citizen experience!