There's something about somebody taking the time to take transform their love of Wing Commander into a physical work of art. It seems to have slipped everyone's notice but user leighs79 submitted a Dralthi model to Lego's Cuusoo service.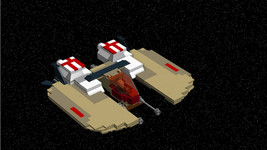 Cuusoo is like a hybrid version of crowdsourcing. Users submit their Lego creations and make a project page to go along with it. Cuusoo members click to support projects they like and then projects that meet a certain threshold get reviewed by Lego themselves. If the sets pass the review process then sets are produced and put up for sale on the website with a 1% royalty going to the model's creator. While there would obviously be some IP rights that would have to be worked out with EA (Or maybe Chris Roberts if it's the movie designs!) I know I would be first in line to buy Wing Commander Legos.
Wing Commander fans have been avid Lego builders in the past - something we're sure hasn't changed. It's only a matter of time before we see more Wing Commander themed projects on Cuusoo! Maybe these images of previous Wing Commander Lego brick creations will inspire you to start your own project page.