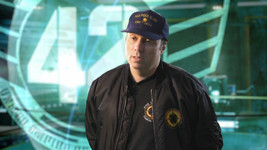 Chris Roberts' Star Citizen campaign has entered its final week, and he's published a new video to drive hard towards the end. Check out his Wing Commander hat, shirt and jacket! The project's tally so far is now past $3.3 million, which already makes it one of the most heavily supported crowdfunding projects ever. Numbers currently break down between $2.2M at RSI and $1.1M via Kickstarter. Chris is aiming to Kickstart $1.5M and break $4M total by Monday, November 19. The project has a real shot at making it! At each $100,000 interval, information on a new star system is also released.
Attention pilots! As of this afternoon, Star Citizen is the #2 best crowd-funded computer game project of all time. We have one week to aim for that top spot! Here's Commander Roberts, with your mission briefing:
A new video on the Squadron 42 artificial intelligence and game engine has also been posted. Much of the effects are still very preliminary, but it's already looking quite good, and the point of the clip is to show off basic ship interaction. Check it out here.