Over at the Roberts Space Industries forum speculation is rampant regarding what Chris Roberts' newest project may be about or what features it may include. While this newest information may not make any of these things any clearer, I'll leave it to you do judge how it affects your view of this new project. Don't forget to leave your thoughts at the chat zone!
First, if you've followed the tiny link at the bottom right of the RSI website to the press section you will notice that emails to press@cloudimperiumgames.com are to be directed to David Swofford. You might ask "why should I care who David Swofford is?" Longtime wingnuts will recall that David was a long like public relations figure at Origin. David now runs his own media relations company and you can follow him on twitter here.
David started in games PR in 1994 at Origin Systems in Austin, Texas. During an eight year career at Origin and its parent company, Electronic Arts (EA), he directed PR campaigns for some of the top computer game series in the business including Ultima, Wing Commander, System Shock and Crusader. He also managed PR for several of EA's affiliated label products including Sid Meier's Alpha Centauri from Firaxis Games.

While working on the Wing Commander products, David engineered several Hollywood-style PR campaigns and managed the first ever costume donation from a video game to a Planet Hollywood restaurant at a special press event in 1994 at the Plant Hollywood in Beverly Hills with actors Mark Hamill, Malcolm McDowell and Tom Wilson.

In 1997, David launched the PR campaign for the ground-breaking, Ultima Online massively multiplayer online game and generated a wealth of trade and consumer-level press for Origin, EA and the game's creator, Richard Garriott. Feature stories were placed in the New York Times, Fortune, Newsweek and Wired among others.
Some other notable things found on the RSI website include a description of Cloud Imperium Games. On the "about Cloud Imperium" page it says "little is known about Cloud Imperium Games Corporation, save that it is dedicated to high end gaming and anything involving spaceships." This should put to rest any talk that this might be some kind of unity based facebook game.
You will recall the spaceship advertisement from Friday? Now look closely at the texture on the top of the ship... It looks strangely familiar. Could this be a clue to something more?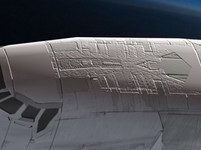 Further, if you misspell one of the existing URLs from the site you are taken to a currious 404 error page with the following text:
With your carrier destroyed, you drift endlessly through the void...

We're sorry, but the page you're looking for does not exist. Perhaps you'd like to start your mission over.