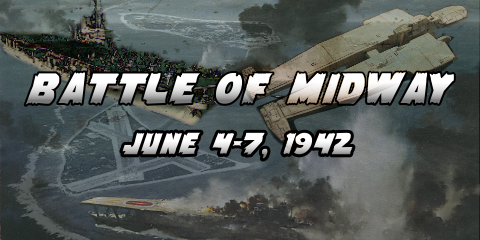 Seventy years ago today, the Battle of Midway began as forces from the Japanese Combined Fleet bore down on the small Pacific atoll of Midway. The majority of the Combined Fleet had been sortied for the battle. Admiral Yamamato himself steamed on the flagship Yamato as part of the Japanese "Main Body" force. However, only one element of the Japanese force, Kido Butai, was to play a role in the most famous of carrier battles. The Japanese set out to crush the remaining power of the American Pacific Fleet, their carriers, and instead saw the four core units of their carrier strike force destroyed in a single day. The penultimate moment of the battle being the five minute American dive-bomber attack between 1020 and 1025 am that put three of the four carriers of Kido Butai permanently out of action.
In remembrance of the battle and all its participants seventy years on, we present again our multipart WC vs History series on the Battle of Midway.
"In less than a month the Kilrathi will be above Earth demanding our surrender if we're lucky, though if past practices are any indication they'll flatten us with a full antimatter warhead bombardment and then come down to gloat over the wreckage and tear out the throats of the survivors with their claws when their next Sivar ceremony comes around." - Admiral Geoffrey Tolwyn, 2668
The Empire of Kilrah has broken the armistice agreement. A massive fleet of heavy carriers is poised to strike at the heart of the Confederation. Thrakhath's advance should be unstoppable. He has new ships, fresh pilots and believes he has achieved total surprise. What he does not know is that Admiral Sir Geoffrey Tolwyn, supposedly disgraced for sinking a Kilrathi carrier hours after the formal armistice, has actually been working with Confederation intelligence to learn the Empire's plans for months. Now Tolwyn is the newly minted commander of Third Fleet--and he is struggling to piece together an armada capable of stopping the Kilrathi.
Read the rest of the story here!