Good Old Games has announced a big weekend sale, and it's all about Origin fans! The nine Ultima & Wing Commander packs that GOG sells have been discounted by 50% to just $2.99 each. This is the absolute cheapest that anyone has ever been able to get the enhanced DVD edition of Wing Commander 4. Wing Commanders 1 through 4 plus Privateer can now be purchased for less than $12 total, which is just amazing. Act fast and don't forget that GOG games make great gifts!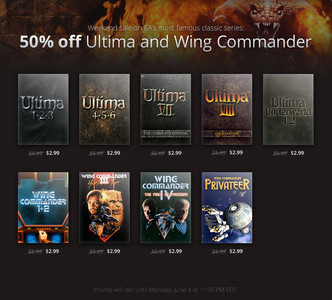 Ground-breaking, redefining, legendary--however you want to name these two franchises, there aren't many other series with a comparable fanbase and affection from gamers of all ages. This weekend, all games from Wing Commander and Ultima series available on GOG.com are discounted by 50%. You have the chance to buy Wing Commander 4, or Ultima VII: the Complete Edition for only $2.99 until Monday, June 4 11:59 PM EDT.

Wing Commander is a series of 3D space combat simulators, described by the games' creator Chris Roberts as "World War II in space." In this series, you follow pilots of the Terran Confederation in their fight against the aggressive feline Kilrathi. Introduce yourself to the epic military space conflict in Wing Commander 1+2, play as Col. Christopher "Maverick" Blair (starred by Mark Hamill) and watch amazing FMV cut-scenes in Wing Commander 3: Heart of the Tiger, enjoy fast, action-packed, and varied space combat in the most expensive video game of its era Wing Commander IV: The Price of Freedom, or explore a vast universe in an open-ended spin-off to the original series Wing Commander: Privateer.

In addition to that, because the Wing Commander series plays so much better with a joystick, we've approached the guys from Logitech and they were kind enough to offer a few awesome Logitech Extreme™ 3D Pro joysticks to our users. Leave a comment below for a chance to win 1 of 3 logitech joysticks. You can also enter a similar joystick-winning contests on Facebook, Twitter, and Google+.