The Amazon.com listing for Wing Commander Academy has been updated to advertise that Release Date Shipping is now available! This service is free for Amazon Prime members if they select the two-day shipping option. Wingnuts who have already selected overnight delivery ($3.99 additional) may want to revise their order to reduce the price and make this an even better deal. In our testing, orders that were placed at the original $17.49 presale price don't appear to be bumped up to the new $22.49 rate if the shipping method is changed. Orders that were previously placed with two-day shipping should automatically be updated and now reflect a May 29 estimated arrival. This will make the wait slightly more bearable!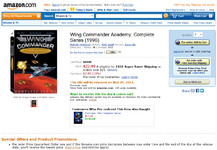 Want to receive this the day it comes out?
Select FREE Two-Day Shipping at checkout.