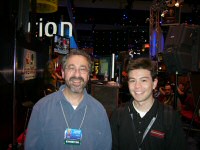 The Game Developers Choice Awards have announced that Wing Commander veteran Warren Spector will be receiving its Lifetime Achievement award next week. Congrats!
The Lifetime Achievement Award recognizes the career and achievements of a developer who has made an indelible impact on the craft of game development and games as a whole, and Warren Spector, who has earned a sterling reputation as an innovator able to merge the deep gameplay elements of multiple genres, stands as a shining example of those principles.

"Warren, whose rarified, 'big picture' thinking and ideals have done a great deal for the games industry, exemplifies the exact qualities that a Lifetime Achievement Award recipient should possess," said Meggan Scavio, general manager of GDC Events at UBM TechWeb. "In presenting him with this honor, we continue a tradition of highlighting individuals whose work stands as a benchmark for the next generation of developers."

Recipients of the Lifetime Achievement are chosen by the Game Developers Choice Awards Advisory Committee, which includes game industry notables such as Doug Lombardi (Valve), Mark Cerny (Cerny Games), Harvey Smith (Arkane), Raph Koster (Metaplace), Julien Merceron (Square Enix), John Vechey (PopCap) and Clint Hocking (LucasArts).

The 12th Annual Game Developers Choice Awards Ceremony is produced in association with the Game Developers Conference® (GDC) and will take place on Wednesday, March 7, 2012 at 6:30 pm, at the San Francisco Moscone Center. The ceremony is open to all Game Developers Conference attendees.