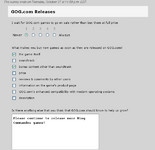 Good Old Games is conducting its annual survey to collect data on how to improve the service. It takes just a couple minutes to fill out, and there's a field where you can request that more Wing Commander games join their library. You can send in your input here.
We know you're busy people, but would you like to contribute to an even better GOG? How about taking 5 minutes of your time to make the GOG experience an outstanding one?

Our main goal when designing GOG.com was to create the best user experience in digital distribution ever. Many say we're doing it right, but we want to get even better, that's why we're launching a survey that will help us lead GOG in the way you'd like it to go. Taking part in it isn't required of course, but if you want to have your share in making GOG the best digital distribution service there is (or at least even better than it is right now) and maybe win a free game, devote few minutes of your time to answer couple questions we've prepared. From all users who will take part in the survey, we'll randomly choose 20 who will receive a free GOG game of their choice. Grab a pencil... er, a keyboards in your hands and answer the below questions for a better future for all of us :)

The survey ends on Thursday, October 27 at 11:59 p.m. EDT.