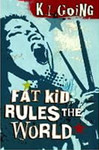 MyNorthWest reports that Matthew Lillard has started filming his directorial debut in the Seattle area. Lillard starred in Hollywood blockbusters such as Scream and Scooby-Doo, but is perhaps best known for playing Maniac Marshall in the 1999 Wing Commander movie.
The film, "Fat Kid Rules the World," is based on the popular young adult novel of the same name, and will be Lillard's directorial debut.

"Set against the backdrop of the Seattle music scene, FAT KID RULES THE WORLD is a coming-of-age story about two dysfunctional teenagers searching for something more out of their completely hopeless existence," said the film's facebook page.

There's word of another Northwest connection on the project with sources reporting that Pearl Jam's Mike McCready is set to score the film.