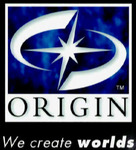 It turns out the GOG announcement was just the tip of the iceberg--or maybe just a distraction. It has just come out that Electronic Arts will formally launch their own "iTunes" style download service tomorrow. The system is called, wait for it, Origin, and will launch with more than 150 available games. If we don't see a Wing Commander, I'll eat my hat.
The news first broke in the Wall Street Journal:
Electronic Arts Inc. is starting an online service to sell downloadable games directly to consumers, as one of the world's biggest makers of videogames steps up a push to offer more of its wares over the Internet, rather than through discs at stores.

The Redwood City, Calif., software maker plans to unveil the service, called Origin, on Friday.

It will include an application, akin to Apple Inc.'s iTunes, that is designed to let consumers purchase, download and keep track of games for PCs, such as the company's "Battlefield" combat and "Need for Speed" racing games.

EA's service, which will open with more than 150 titles for sale, will also try to attract users with a range of Facebook-like social-networking features that let gamers on a variety of devices broadcast messages to online friends when they defeat online opponents or accomplish other gaming goals.

Origin initially won't sell games designed for consoles like Sony Corp.'s PlayStation 3 and Microsoft Corp.'s Xbox 360, which have online-game stores controlled by their respective makers.

The EA service will have a handful of rivals, the biggest of which is Steam, a PC download service run by Valve Corp., a Bellevue, Wash., company that also makes some hit games, such as the recent "Portal 2." GameStop Corp., the biggest videogame chain, recently acquired a service called Impulse to help create its own game-downloading service for PCs.

In an interview, EA Chief Executive John Ricitiello called Origin one of the "cornerstones" of the company's multiyear effort to shift more of its business toward games that are played and distributed over the Internet. The category includes everything from games for Apple's iPhone and iPad to social games that are played on Facebook Inc.'s social network.

In recent years, EA's financial performance has suffered as growth in the company's core business of selling copies of its games in stores has slowed and its investments on the Internet, including a string of acquisitions, have been slow to pay off.

But investors appear to be growing more confident lately that Mr. Riccitiello's strategy is yielding results. Since the beginning of the year, EA's shares have risen 48%, though they slipped 19 cents to $24.24 in 4 p.m. trading Thursday on the Nasdaq Stock Market.

EA further buoyed investor sentiment last month when it reported $833 million in revenue from "digital" sources for the fiscal year ended March 31, equivalent to more than 20% of the company's total revenue, adjusted to exclude an accounting treatment related to online games and other items.

John Taylor, an analyst at Arcadia Investment Corp., said investors increasingly believe that "a lot of the heavy lifting has been done at EA," and that the company is coming out of a "period of playing defense and re-evaluation and is trying to go back out and play offense."

Another much-anticipated online project from EA is "Star Wars: The Old Republic," an online multiplayer game for PCs based on the George Lucas outer-space epic. EA will preview the product at next week's E3 games conference in Los Angeles. The game, the company's biggest development effort in years, is expected to go on sale sometime during the current fiscal year. EA hopes to give its new online store a boost by making Origin the only Internet-based service offering the "Star Wars" game, which will also be available in stores.

Even if consumers don't purchase games through Origin, they will be able to use it to create profile pages that record all of their scores and other progress on EA games and to establish Origin friend lists based on their friend lists on Facebook and other social networks.

The service will allow users to brag to their friends about their gaming accomplishments, a feature of Facebook games like FarmVille that has helped those games spread to other users.

"When I see you achieving and doing great things in your game, I'm more inclined to be more interested in that product because I have social proof that you're having a great time," said David DeMartini, EA's senior vice president of global online.

In coming months, EA plans to use Origin to allow players to spread their game playing across devices in novel ways, said Mr. DeMartini. One hypothetical example might involve an EA shooting game called "Battlefield," in which a player could earn "experience points" by practicing their sharp-shooting skills on a mobile version of the game. Those points could then be used to unlock privileges, like more accurate weapons, within an Xbox 360 version of the game, he said.