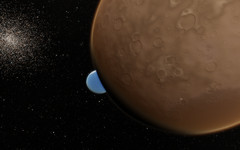 Dran is always looking out for fellow Wing Commander modders and wanted to share his latest find. The aptly named Space Engine is a free space sim engine for Windows that actually looks pretty decent. There's a sample video available at their website, and the core program itself is about 400 megs. Even if you're not a modder or the engine isn't suitable for your project, it's touted as an educational tool and looks like a lot of fun to fly around in.
Basic Controls

* Left Mouse Button – Click to select object, Click and hold to look around
* Right Mouse Button – Click and hold to rotate around selected object
* Mouse Wheel – Change velocity
* F1 – Options
* F2 – Solar System Browser
* F3- Find-by-name menu
* G – Go to an object
* Shift + G – Go to an object's surface

There are a ton of controls for the game. Simply open the 'readme09_eng" file in the Space Engine folder to find a full list.