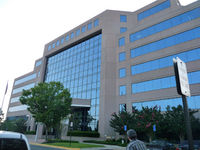 The internet is aflame today following an angry rant from a supposed former Bioware Mythic employee which exposes lurid details of the company's internals. Most of it is common sense crafted to enrage the Linux crowd (Electronic Arts wants to make money?!), but one paragraph should be of interest to Origin fans:
Oh yeah, and he needed Paul Barnett. You know him as the crazy British dude that appears in random videos at EA to promote his latest bullshittery. We know him as the crazy British dude who we have no idea of how he still has a job. This man was supposed to be the savior of Warhammer's vision and design. Now all he can do is promote his strange ideas about his little secret project web Ultima game that's been almost universally criticized by all of us and focus groups. What's that? You didn"t know Paul loves one of those old Ultima games sooooo much he's making a literal copy of it for Facebook? Well, the cats outta the bag. Too bad it sucks ass.
Ignoring the high school rancor, this may be an interesting puzzle piece. Mr. Barnett's interest in Ultima is not a well-kept secret--he is the man leading the charge to re-release the originals and he routinely mentions what is likely this project on his Twitter--but it is actually very good news to hear that he is heading a known project for Electronic Arts rather than developing something in his spare time. (If the Ultima project is really a Facebook game, then the stage is set for an exciting showdown between a lovingly crafted Ultima game and Richard Garriott's Portalarium!)
At the risk of editorializing, I would like to join the angry masses and put my own experiences with Paul Barnett on the record--and they couldn't be farther from the rant quoted above. The Paul Barnett I know is the man who came in on Saturday because he was excited to show off the Origin material Electronic Arts had shipped to Mythic and the man who would stand up to EA legal to re-release Wing Commander I online.
Paul Barnett is the crazy British dude who 'gets us'. He was single-handedly responsible for organizing our archiving trip to Mythic, the DOSBox re-releases of our games and now, quite possibly, for bringing back Ultima. I suppose I'm also not sure how he still has a job... because there can't be any money in the time he has put in to helping our small causes. Here's a good example: I have begged producer after producer at Electronic Arts for the permission Peter Telep needed to release Pilgrim Truth online--everyone from Sean Penney to Chris Roberts--and the response has always been that they would like to help but that it just isn't a priority. I mentioned it to Paul Barnett and in days the book was in my inbox... and he was trying to figure out how EA could celebrate Wing Commander's 20th anniversary. The man goes above and beyond in a way that matter to us.
My only question is: how do we put him in charge of a new Privateer?