While sorting through one of the CDs recovered from Mythic I came across something that didn't seem like it should merit much attention: a folder of graphical 'borders' made for a corporate presentations. Tasteful monochrome images that showed the company's facilities, screenshots from games and... box covers. Here's the latter:

Wait! Computer, what's that. Look at the far right, zoom in and enhance!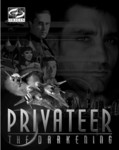 The never-used box cover for 'Privateer: The Darkening'! The file, dated May 13, 1996, proves once and for all that Electronic Arts once seriously planned to release it without the '2'.