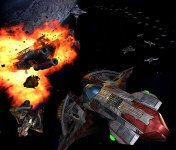 Activity has picked up lately on the WCPedia project. In the last month alone, dedicated Wingnuts have performed more than 1500 edits and created more than 50 brand new articles. The team building the encyclopedia is currently going through all the newly released Birthday material and working out how to best integrate it. Any and all volunteers are welcome to help. There's lots to do! Ask for help at Crius.net if you're not sure where to start.
The Summer Campaign draws to a close but the Fall is already being planned out. WCPedia saw a huge bubble this summer in work being accomplished. We've seen WC1, SM1 and SM1.5 mission entries completed with basic data. We've started to go back through WC1 missions and add alternate text. Dozens of other articles have been added along with thousands of edits to existing articles to more fully flesh them out.

The goal for WCPedia in the next year is to double the size of the project. My personal goal is reach Wing Commander III in the missions section. We still need users to fill out other areas of the encyclopedia. If you want to help, we've got something for you to do. No matter your skill level you can help this project to its final goal.