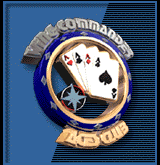 NeoDevilbane reports that his collection of Wing Commander Aces stories is back online. Availability of old Aces material has been spotty over the last few years, but if you're one of the many hundreds of people who remember these classic fan fics from the late '90s, check them out again here.
"Wing Commander : Renegade"

The Nephilim War fought to an uncertain conclusion after the events of the Prophecy series, a very much alive Commodore Christopher "Maverick" Blair comes to the twilight of his career and life in the year 2684. Living in obscurity since his apparent death in 2681, fate calls him to action once again. As an all-new Secession War threatens to erupt in the Epsilon Sector in the Firekkan territories, a visit from a wingman he thought long dead, Robin "Flint" Peters, gives Blair something to fight for once more: the Firekkan Commonwealth. When friends turn and the galaxy itself becomes his enemy, Blair embarks on his final, maniacal sojourn.