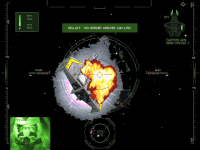 Super sleuth boringnickname has tracked down a long lost patch for the German & French versions of Wing Commander 4! The small update fixes an incompatibility between WC4 and some graphics cards when running in 16 bit SVGA mode. The CIC has had the English version of the patch in the Files section for years, but this one was missing. You can once again download it here (17 kb zip). Installation instructions are included. While the specific contents of this zip isn't the most exciting thing, I always get a warm and fuzzy feeling when we find a new piece of official Origin material. The readme file even includes details on how to connect to the Origin BBS for more help. I'll sleep easier tonight knowing one more piece of the Wing Commander universe is in its place.
WC4P-GF was written to address 16-bit SVGA palette problem found with video cards using the S3 Vision 968 chipset and the IBM RGB524 RAMDAC. Cards we know Wing Commander IV has a problem with include the Hercules Graphite Terminator Pro 64 PCI and the STB Velocity PCI.

WC4P-GF verifies that the original executable (found on disc 1 of the release version) is used. If it does not work, try copying the WC4.EXE file from disc 1 into the Wing Commander IV directory.