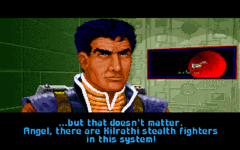 A conference on Hollywood animation was recently held in China. A variety of American experts went to Asia to discuss techniques and production processes to help spark the industry in new regions. Global Times briefly covered the event and added an odd footnote. Apparently none other than Wing Commander creator Chris Roberts was on the list of presenters, and a handful of upset participants demanded a refund when he was unable to attend. Curiouser and curiouser...
Aron Warner, the producer of the Oscar-winning cartoon feature Shrek, led a team of Hollywood producers and designers to Beijing to talk about the success of Hollywood's animation industry. Only a quarter of the anticipated number of participants signed up for the three-day course, an outcome the organizer blames on the Chinese cartoon industry being too protected to invest in learning.

...

Some students requested a 1,000-yuan ($146.40) refund after learning scheduled participant Chris Roberts, producer of Lord of War and the Wing Commander series, was unable to attend because he couldn't secure a visa, according to Tuo.