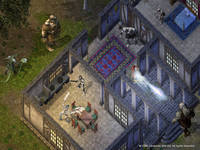 Ultima Online producer Calvin Crowner has posted a community update on the status of the game and series. He talks a little bit about the dynamic that exists between developers and players, particularly in a massively multiplayer game, and then goes into where the game is headed. The focus right now is on keeping the game engaging for existing players, but there will be a small push next month to bring in new players or those who started an account and didn't take to the game. Check out the full article here.
From my perspective no game is anything without substance. Ultima Online, in my opinion, has more substance than many interactive worlds with which I've been involved. In the next several months, we ask you to look beyond the surface of what we've given you, and what the purpose is. We are nowhere close to the middle of this saga. This is just the beginning. You will be going through many stages of battles. Evil is always the same, it just changes its face from time to time.

July, we are putting together a small present for new players, and those who wish to reactivate some of their under-developed or forgotten young accounts. There are some minor tech hurdles we are working through, but right now we are planning to press the visibility and accessibility of Ultima Online from multiple fronts.