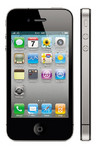 Electronic Arts has announced their domination of the top selling app chart on day one of the iPhone 4 launch. They held 12 of the top 20 sales positions. This was no doubt boosted by the 99-cent sale on key titles held the day before the new phone was released. The good news is that the sale has been extended through Monday, June 28, on numerous games ranging from $1 to $3. Games can be purchased now via iTunes and downloaded to an iPhone later. Check out the full list of discounted titles here.
On the day of the Apple® iPhone® 4 launch, EA Mobile™ − a division of Electronic Arts Inc. (NASDAQ:ERTS) − dominates the Apple Top Grossing App chart for iPhone with 12 of the top 20 titles. EA Mobile also welcomes iPhone 4 with the release of NCAA® Football which has been specifically designed to maximize the power of iPhone 4's new Retina display.

Since the inception of the iPhone, EA Mobile has been a definitive player with the rise of iPhone and iPod touch® devices as gaming platforms. Popular games include SCRABBLE, Tetris, MONOPOLY and BATTLESHIP, which have consistently ranked among top sellers and, in 2009, The Sims® 3 was the #1 best-selling game on the App StoreSM. For more information about EA Mobile, please visit www.eamobile.com.