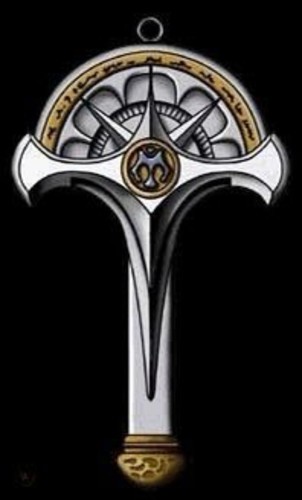 Today is the McDanielist—or Pilgrim—Holy Day of Acclivity! It celebrates the disappearance of the first sloship to reach Sirius on this day in 2311. Pilgrim theology teaches that the lost ship was translated to a higher plane of existence where it continues to guide the faithful. You can read all about it in our full writeup here.
The Final Exodus

By 2309, the governing body of the outer planets, the Outer Planet Policy Council (OPPC) was under the control of McDaniel's followers and preparations were made to begin launching Morvan Drive "sloships" to settle distant stars. The first, the Exodia under Hella Ti and a crew of devout McDanielists, was launched on February 19, 2311 carrying McDaniel himself and 1,199 other colonists to settle Sirius A-B. On March 23, the Exodia made the final .22 light year hop to Sirius successfully. The slowship had barely launched its single-person scout when McDaniel felt an overpowering force making him look to the portside, where a glittering blue spot had appeared in space. The spot rapidly expanded, seeming to grow thousands of hostly tendrils until it had become a massive cloud five times the size of the Exodia. Captain Ti ordered scans, but they came back with nothing. The cloud quickly enveloped the ship, and McDaniel experienced a sudden happiness, a disappearance of ordinary human discomforts and a sound of music playing. His final recorded words: "Whatever it is, it's beautiful."

Further Pilgrim theology teaches that McDaniel and the crew of the Exodia were translated directly to a higher plane of existence and that McDaniel continues to spiritually direct his followers from this new plane. Surviving McDanielists insisted that leaving the Sol System was the responsibility of the Elect and additional sloship journeys were successfully completed. Colonies at Alpha Centauri, Proxima Centauri, Cygnus and Sirius were quickly established, followed by eight more in places like Tamayo, Triune, Luyten, Faith, Beacon, Promise and McDaniel's World. By the end of the 24th Century, all of McDaniel's followers, who prior to this point had come to make up 75% of the population of the off-world colonies, had successfully left the Sol System for the twelve colony worlds established as the Pilgrim Alliance. It was around this time that the term Pilgrim came into use, initially referring to those who booked passage out of the Sol System and later coming to refer to all of the Elect. With the practical completion of the Exodus, contact with Titan and Earth was cut off save for the occasional semicovert trading mission and the two cultures continued to move in very different paths.